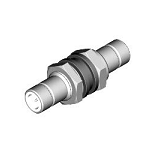 Add to Favorites
Share
75 Ohm SMB Adapter
Payment

Origin

China Mainland

Minimum Order

15

Packing

Pieces

Inspection

email : likuiwu_853@163.com

Remarks

welcome contact by phone number/whatsapp: +8615991612086
Product Detail
75 Ohm SMB Adapters

Male to male and female to female 75 Ohm SMB Adapters are all available in Shenghao.

Key performance
Characteristic Impedance: 75 Ohm
Frequency range: 0~1GHz

Contact resistance:
Center conductor = 6.0m Ohm
Out conductor = 1.0m Ohm
Insulation resistance: =1000m Ohm
Insulator voltage withstanding: 750V
Applicable spec/std: GJB681A (MIL-C-39012)

Connector durability: 500 cycles

Material
Center contacts:
Male--- bronze, gold plated.
Female--- beryllium copper, gold plated
Bodies other metal parts:
Brass, gold plated

Insulators: TFE
Gasket and seal rings: silicone rubber

Crimp ferrule: copper, nickel plated.

2
YRS
Xi'an Shenghao Electronic Technology Co.,Ltd
China
Favorites